Latest Winged Words out now!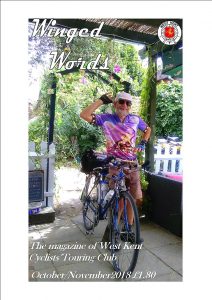 In this issue
After the hot summer we've had this year, we take a look back in the archives to another scorching summer, 1976, and an article about the BikeCentennial ride.
There are tours to Normandy and Picardy.
A Peruvian walk.
Plus all your usual favourites with the groups and the upcoming Runs List for November and December.
To be certain of receiving your copy, become a registered reader for a mere £12.00 for 6 issues. Email Richard at sway.bush@gmail.com with your contact details and he will arrange to send you your copy direct.