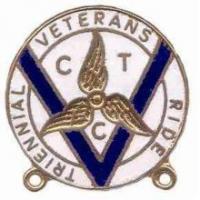 WEST KENT CTC TRIENNIAL VETERANS RIDE 14th JULY EVENT REPORT
Once again we have had a highly successful elite event and enjoyed dry and warm weather, although it looked like threatening rain at times.
30 entries, 29 of which rode the event, divided neatly into three riding groups. [1 was unable to ride due to shoulder injury].
Two thirds of our riders had ridden a Tri-Vets before, a few having collections of date bars, and for John Ennis this was his twelfth date bar. I am very grateful to Paul Mansfield, Linton Schwarz and Paul Welch whose great experience and leadership made everything run very smoothly and efficiently.
This was the sixth Kent Tri-Vets I have organised, and since I have been doing them I have run them with a single base HQ and four loops. This has been further refined to create an easy route with the minimum of hills, none of which involve 'out of the saddle' effort, whilst retaining the maximum of interesting country, quiet lanes and back roads. We now use the same route each year for our 100 mile 'medal' event, giving more riders the opportunity to reach that all important milestone, with the advantage of not being far from base if it all gets to be too much on the day.
The quickest group spent 8 hours 14 minutes on the road and completed the event in 9 hours 49 minutes. The second group spent 8 hours 26 minutes on the road and 9 hours 54 minutes in total. The third group spent 9 hours 3 minutes on the road and 10 hours 28 minutes in total, all very comfortably within the 12 hour limit.
Vic + Heather Ashlee and Brian Matkins supported the event.
Special thanks go to my wife Ros who not only baked all the cakes but made up all the lunches, poured all the tea + coffee throughout the day, washed up, and cleaned the kitchen and toilets afterwards. Thanks also to Bob Macdowall for being our 'official' photographer and for checking the route. See his pics on the 'Cycling West Kent' facebook page.
Certificates and enamel date bars were awarded to everyone at the end of the ride. Badges are obtainable through the Cycling UK online shop, price £4.50, with a 6 week delay from processing the order to obtaining the badge. If anyone wants an enamel date bar for a previous TriVets ride, please contact me and I will get them for you. [This is due to the poor quality of the non-enamel date bars obtainable from the Cycling UK shop].
This year I rode the South West London CTC [The Sou'westers] TriVets 100 mile event on 19th June; two loops from Brockham near Dorking out to Godalming in the West and Lingfield in the East; a change from my 'usual' Essex event.
Rob Seall
West Kent CTC Registrar + Outdoor Events Officer.
https://www.westkentctc.org.uk/wp-content/uploads/2019/08/TriVets_2019_ridersorganisers.jpg
2732
4100
Winged Words
https://www.westkentctc.org.uk/wp-content/uploads/2018/02/West-Kent-CTC-logo.gif
Winged Words
2019-08-01 21:46:30
2019-08-02 14:59:34
Triennial Veterans 100 mile ride 14th July