Cycle Rides for Nov/Dec 2023
Download  Run List NovDec 23
JAN/ FEB 2024 RUNS LISTS DEADLINE: 15th Nov 2023
The Easyriders, Maidstone Medways, Intermediate and the Saturday groups are no longer active
BEXLEYHEATH
Contact – Mike Friday (020 8859 7617)
Rides
Varied Sunday rides of 30/50 miles at a moderate pace.
Tuesday evening pub rides – meet Bexley Post Office at 19:45.
HARDRIDERS
Contact – Martin Gill (01732 453 823) Rides – Roy Turner (01732 863 857)
Brisk paced Sunday rides (100+ miles in summer) for the fitter rider. Adventurous, varied, often to places of special interest, with some impromptu off-road. Some weekends away.
MEDWAY TOWNS
Contact – Geoffrey Hunt (01634 719 504); www.medwaytownscyclingclub.org.uk
Meet 09:00 most Sundays at Rochester Castle Steps for rides from 40 to 80 miles.
MODERATES
Contact – Bob Tomlinson (01322 863 091)
Moderate-paced Sunday rides of 30/40 miles, some car/train assisted.
Lunch carried on all rides.
ORPINGTON
Contact – Tuesdays and  Sundays – Richard Bush (07973 182 097)
Meet Tuesdays 19:00 at the George, Farnborough (in Nov/Dec) for short evening rides of 15/20 miles
On Sundays ring Richard for meeting place details for morning only ride with 11s, home for lunch
SEVENOAKS
Contact – Diana Outram (0790 9838800) or Carol Lin (0790 5070659; email: carol.lin@talktalk.net)
Easy paced Saturday rides from 20 to 30 miles.
SUNDAY ALL DAY
Contact – Colin Atkins (020 8460 3447)
Rides of 40 to 80 miles at a pace to suit riders, weather and terrain.
SUNDAY SHORTS
Contact Peter Ashlee (01732 469919) or Nicky Tobin (07793278571) for further details. Sunday morning rides. Also call ahead to clarify
TONBRIDGE AND TUNBRIDGE WELLS
Contact – Rob Seall (01732 850 664), email: r.seall@gmail.com
Meet at Tonbridge Riverside 9:30am  Sundays and Thursdays. Easy morning rides 20-30 miles.
WEEKDAYS
Contact – Eric Watts (01580 892 855)
Moderately paced rides of 50/65 miles once a month on Thursdays for the reasonably fit rider. Pub lunches, some car/train assisted rides.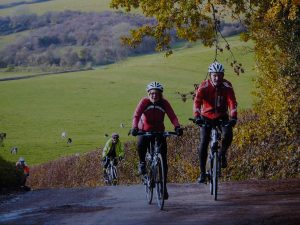 You don't have to be a member to join a few introductory rides and it doesn't cost you anything to come along. You will be made welcome and we will be pleased to see you. Newcomers are always welcome, we hope you will continue to ride with us and, if so, you will be expected to join Cycling UK.
If you are unsure of your fitness, or find the thought of cycling daunting, try a short ride first. If in doubt, phone a contact. All rides are led by a person who knows or has researched the area, we ride as a group and no-one is left behind. We try to keep to the lanes and avoid the busier roads as much as possible. Lunch stops are usually at a country pub – bring sandwiches if you prefer. You are welcome to ride with as many groups as you wish.