Latest Winged Words out NOW!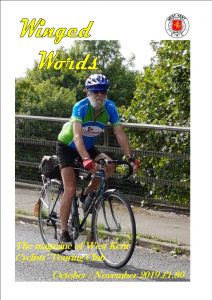 In this issue…
C2C with the Orpington Group / 
A look back at exploring Kent in the 50s / 
Invalids tour of the Hereford/Worcester borders / 
A Chat with Pat…/ 
The latest positions in the Best All Rounder Competition / 
Plus all your regular reports including where the Groups rides are going in November and December / 
Not got your copy? Make sure you don't miss out on your magazine by taking out a subscription. Registered readership will set you back a miniscule £12.00 for the next 6 issues. Email Richard at sway.bush@gmail.com with your contact details and he will arrange to send direct. / 
N.B. We're always on the lookout for any local business that might be prepared to place an advert in the magazine i.e. a café, pub. Next time you're in your group's regular haunt, ask and let Richard know so he can progress the referral. / 
Alternatively if you ride with us already and want to advertise your own business, Richard would be equally pleased to hear from you.