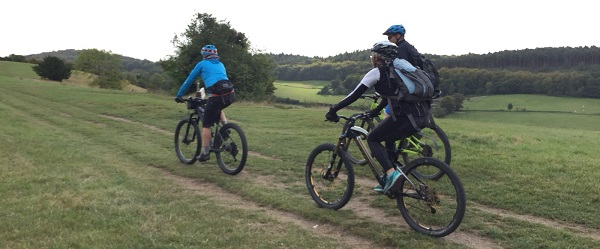 Sun 21st Oct 2018
Choice of ride times – 3, 3½ or 4hrs
Start 08:30 – 09:00
Entry £8.00
25RSEntryForm-V12.4_Sep18 Closing Date: Mon 15th Oct 2018
Organiser: Rob Seall – r.seall@gmail.com
This event is not a race but a part on / off road circular reliability ride under Cycling UK rules in and around the North Downs centred on Wrotham. Choice of times i.e. 3, 3½ or 4hrs with checkpoints to be visited on route.
Entry fee £8.00
Registration from 08:00 with riders set off at 2 minute intervals from 08:30
If you're unable to ride, then please offer to help at HQ or as a marshal. Contact Rob ASAP if you can assist.
Route Summary
Ride heads east from Wrotham to Upper Halling then climbs Chapel Lane before dropping through the woods towards Luddesdown. Joining Wrangling Lane the route then goes (course change!) to Holly Hill and via White Horse Road/Leywood Road to join the usual bridleway to Harvel. Through the village then into Happy Valley and out to Meopham Green. More off road to Hodsoll Street and Ash Church then south towards Stansted and Labour in Vain to cross the A20 / M20 descending off the Downs finishing with a section of the Pilgrims Way back to Wrotham Cricket Pavilion